Are you seeking inspiration and tools to live a more ecological, 'green' life? Are you interested in seeing how the wisdom of natural patterns and ecosystems can support you to make steps in your home, community and work to live in better relation with the earth and the life around you?
Permaculture is a way of understanding what is going on around us, and seeing and imagining the effects of our actions. By observing nature and its systems, by observing feedback and playing with a set of tried and tested Permaculture Principles, we can move towards a resilient, regenerative abundance for us and others, in our gardens, our communities, our businesses, our health, the wider landscape and much more.
This course introduces a wealth of Permaculture Design tools and insights. We will use the land and Retreat Centre we are staying at as a case study for designing and for carrying out gardening and building practical tasks. The course also explores ways fo participants to take this all home and design and improve their homes, gardens and lives.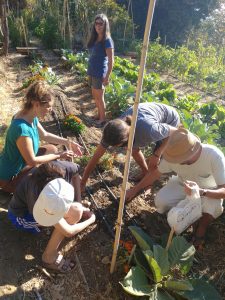 The course is convened and facilitated by Peter Cow and Bernard Joseph. The weekend will be held in English with French translation where needed. 
Timings: Participants arrive on Monday 10th from 15.00 to set up tents etc, and the program starts at 16.00. It finishes at 21.00 on Wednesday 12th. All food and camping until Thursday 13th morning is included, until after breakfast on Thursday. If you are interested in staying on for a few days afterwards and doing some practical permaculture work on site, please contact Niki.
Accommodation: Bring your own tent and camp on site. You can alternatively book a bed in a shared bell tent for an additional €8 per night. 
Course cost: €295 (€250 concessions), or the equivalent in pounds
Earth Culture runs just after 'Nature Culture' – an experiential weekend of nature connection and culture repair, based on the work of the 8 Shields Institute. Nature Culture runs 7th-9th August – you are really welcome to come to both events and stay over for the Sunday night in between, and you can get a discount if you book onto both courses…
 Want to find out more?  Email niki@talberou.fr
Niki and Toby, our hosts at Talberou, welcome us to share their rustic eco retreat centre for this course. We shall explore and learn in the stone buildings and shady walnut woodlands, observe the wild surroundings and camp out under the trees near their stone farmhouse.
Homemade food, compost toilets, rustic showers in the moonlight, fresh local fruit – come and nourish yourself this August at Talberou, near the town of Penne-d'Agenais.