Current work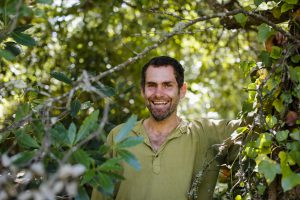 I support people, groups and organisations, bringing them more into their power and creativity by using Permaculture and 8 Shields Institute design principles.
I teach and convene 8 Shields Introduction weekends around the UK and Europe, I am one of the lead organisers of the UK 'Art of Mentoring' Camp, and along with my partner Rebecca Card i run the 'Bringing it Home' 8 Shields yearlong training
I also teach Permaculture Design Courses, People Permaculture courses and bespoke Permaculture trainings.
I support people individually as well, with ongoing mentoring relationships in person or on regular calls.
History
At University in the 1990s I become involved in the direct action protest movement. For several years I visited and lived at protest camps and campaign offices, trying to stop destructive roads from being built, to prevent weapons from being sold to repressive regimes and to keep GM crops out of our countryside.
I became inspired by the idea of positive impact living, and took a Permaculture Design Course (PDC) at the first 'Natty Gathering in 1998 in Kent. I then went on to co-found the Steward Community Woodland intentional eco community on Dartmoor, where I lived for 7 years, learning to foster community, and to grow, build, compost, observe and manage a woodland.
Permaculture
I left the community in 2007, and trained to become a Permaculture teacher, apprenticing with the wonderful Aranya Gardens. I was awarded my Permaculture Dipoma in 2007, and started running my own PDCs in 2012. I have led Permaculture courses in Greece, Sweden, UK, Portugal, Jamaica, Cyprus, Finland and Denmark.
I have been very involved with People Permaculture – exploring ways to expand the use of Permaculture, using its principles and design to support our relationships, groups, families, organisations and personal growth. I have been working with Looby MacNamara, author of 'People and Permaculture' since 2013, leading Facilitator Trainings and Design courses on this.
8 Shields
In 2011 i attended my first Art of Mentoring camp, run in Scotland, and I found so much rich wisdom for creating whole lives, supportive culture and powerful people. I felt my heart blow more open in that field of music, elders, mentoring, games, stories and nature connection. I started training with the 8 Shields Institute, and attending as many courses as i could, including the Art of Mentoring Leadership online 9 month course, I started bringing its principles and techniques into my Permaculture courses – a natural fit!
In 2015 my partner Rebecca Card and I ran the first ' Nature Culture Regeneration' 8 Shields introduction weekend on Dartmoor, co-designed with Robin Bowman, Linda Lemieux and Emily Fawcett.  We have run this course twice a year since then, and it also sometimes includes a wild 'Return' program that has people disappearing into the woods for the weekend, scouting and foraging and connecting deeply with the land. We also run 'Bringing it Home' together, a year long course journey to help root 8 Shields wisdom and practices in people's lives, families, communities and work.
The Art of Mentoring (AoM) camps have deeply supported me in my becoming, and when the team organising them stepped back after the 2014 AoM, i  stepped up to help starting them going again. In 2017 I led-organised a successful AoM camp on Dartmoor – one of the highlights of my life so far. I was also part of the triad that brought together the 2019 UK AoM at Falkland, Scotland.
I now lead Nature Culture Regeneration weekends in other countries, using it to support regional networks to grow and develop their own capacity to run events and train people.
I am part of the team setting up 'Nature Culture Network' a UK 8 Shields organisation, and am on the design team with the 8 Shields Institute as it scales up to reach out to more people.
Life and Loves
I love singing and music, and i have self recorded 2 albums of acoustic songs. I enjoy running in the woods and moors, wild swimming and visiting new places. 
I am deeply grateful for my hobbit-cottage home on a Dartmoor farm and my partner Rebecca who i share it with, and for all the wildlife that lives around us, weaving through our lives in delightful and surprising ways.
A recent podcast i made with 'connection Matters'